Mexican Black Bean Salad
I have created this recipe for Mexican black bean salad after reading a post by Nayna Kanabar of Simply Food. She runs a monthly event where readers are asked to post recipes from a particular region. August's theme is Flavours of Mexico.
I met Nayna at this years Food Blogger Connect conference ("FBC") and was inspired by her creative use of ingredients to rustle up vegetarian cuisine from all parts of the world. This was of great interest to me as my husband and I don't eat meat, eggs or fish on Tuesdays and I am constantly looking for new ways to brighten up our weekday meals.
This salad has been created as a result of Nayna's theme and is made up of black beans, tomatoes, corn tortillas and chipotle chilli sauce, all staples in Mexican cuisine. Serve it up on lettuce for a light tasty snack or  a light lunch, or if you're feeling naughty, on pan fried tortilla with crumbly cheese and cumin infused sour cream. And for you non veggies out there, feel free to add a generous helping of chorizo. Enjoy!
I am linking this post to Simply Food's Flavours of Mexico event, which is being hosted by Jagruti's Cooking Odyssey. I will be running next month's event, which will have a Caribbean theme, so stay tuned for more on that and do get involved.
I am also linking this to Karen Burns Booth of Lavendar and Lovage's Cooking with Herbs event. Karen was also at the FBC and gave an insightful talk on getting published in magazines. I have been reading her blog since I first started The Spicy Pear. Her blog is packed full recipes made up of local and seasonal produce, a must-read for any food lover out there.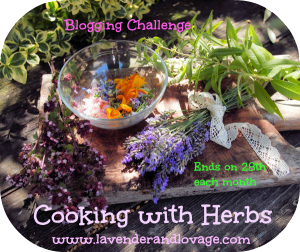 Ingredients
1 tin black beans, drained and rinsed
10-12 cherry tomatoes, finely chopped
1 yellow pepper, finely diced
1 avocado, roughly chopped
1 lime, juice only
1/2 cucumber, finely chopped
1/2 garlic clove, crushed
1/2 red onion or 2 shallots, finely chopped
generous pinch cumin powder
gem lettuce
1/2 tsp to 1 tsp chipotle sauce (add more or less depending on how hot you like it. As an alternative use Gran Luchito's Smoked Chilli Paste).
bunch of coriander leaves, finely chopped
salt and pepper to taste
little bit of queso bianco or crumbly cheddar cheese for garnishing
1 corn tortilla
Instructions
Preheat the oven 425F, 220C.
Cut the corn tortillas into long strips and place on a lined baking tray. Sprinkle with salt and pepper and bake for 3-4 minutes, or until golden brown.
In a large bowl, combine all the ingredients, except for the tortilla strips and cheese. Mix well but be careful not to squash the beans.
Carefully tear the gem lettuce and place decoratively on a plate (see first picture) and scoop the salad onto the leaves. Alternatively, place a whole corn tortilla on a frying pan. Heat on medium heat until the tortilla is slightly golden and crispy. Turn over and repeat. Put a generous amount of the salad on top of the tortilla and garnish with cheese (see second picture).
Garnish with crumbled cheese and tortilla strips.